"Michael Buffalo Smith as a musician, writer, critic, and southern music historian really gets it.
His taste and deep appreciation for the real thing are qualities that inspire all of
us
in
his wake.
And it's a big wake."
- Billy Bob Thornton (Oscar and Golden Globe Winning Actor, Director and Musician)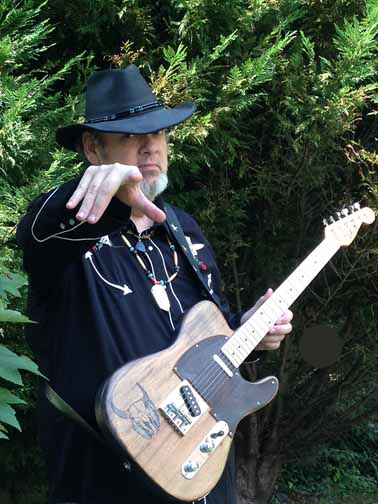 Michael Buffalo Smith is an author, music journalist, and performing songwriter from Spartanburg, SC. He grew up there during the heat of the seventies Southern Rock boom at a time when his hometown heroes The Marshall Tucker Band were at the top of their game. Even then, Buffalo was sowing the seeds that would one day find him referred to the "Ambassador of Southern Rock."
Buffalo worked many jobs as newspaper editor, features writer, columnist, sports reporter, layout designer and more along with many years in radio as an announcer, copywriter, DJ and production coordinator. He also logged several years as a radio air personality catering to the sounds of the beautiful south while singing and playing his own music on weekends, and recording seven albums that featured many of the stars of Southern Rock, including Bonnie Bramlett, Pete Carr, Tommy Talton, Paul Hornsby, George McCorkle, Tommy Crain, JoJo Billingsley, and John D. Wyker.
Buffalo's first book was published by Marshall Tucker Entertainment of Beverly Hills, CA. Carolina Dreams: The Musical Legacy of Upstate SC is a history of the MTB and all the other great music that came from the region. Smith began writing for various regional and national publications including The Atlanta Journal Constitution, The Spartanburg Herald Journal, The Greenville Journal, Y'all, Relix, Mojo, Hittin The Note, Discoveries, In 1997 he started writing for Goldmine where he became the "go to" writer for all things Southern rock. He created several 10,000 word cover stories including features on The Allman Brothers Band, Marshall Tucker, Charlie Daniels, and Gov't Mule (in their first ever magazine cover story.) He also wrote many features on everything from surf music to Alice Cooper, Ted Nugent, Kansas, Koko Taylor, Frank Zappa and record collecting, as well as hundreds of album reviews.
In 1998, Buffalo founded the online magazine GRITZ and began a ride that lasted over 12 years, including three years as a glossy print magazine. During the GRITZ years, Buffalo conducted countless interviews and wrote hundreds of features, reviews and columns/blogs. In 2006 he joined forces with another internet site and continued doing what he does best, writing about Southern music. When CMT needed a Southern Rock authority to appear on their Outlaw Country and Southern Rock special, they enlisted Buffalo. He was later featured on the documentary section of the Shout! Factory release Live from the Garden State by The Marshall Tucker Band.
Buffalo has penned liner notes for album releases from Dickey Betts, the Marshall Tucker band, the Charlie Daniels band, Dixie Tabernacle and many more. He is also working on a collection of southern-based fiction short stories, a Southern novel, a collection of children's stories, and a screenplay. He publishes a quarterly internet magazine called KUDZOO, dealing with southern music and life. Released in September, 2012, Prisoner of Southern Rock, with a foreword by Billy Bob Thornton, was published by the prestigious Mercer University Press of Macon, Georgia. His second book on the Mercer imprint, Rebel Yell: An Oral History of Southern Rock, followed in October, 2014. Capricorn Rising followed in 2016, and From Macon to Jacksonville in 2018. He has also self-published a book on the Greenville Memorial Auditorium (Greenville, SC) called The Brown Box, and a memoir about his days as a fan of the band KISS, called First Kiss. His next book The Road Goes on Forever: 50 Years of Allman Brothers Band Music will be published in 2019 by Mercer Press.
MUSIC CAREER
Michael received his very first guitar at the age of seven, a toy Roy Rogers model. Apparently, Smith was less than interested at the time, since the instrument was left outside, leaning against a tall pine tree, and exposed to rain, sleet and snow for about a month. When Michael finally remembered the guitar, it was nothing more than a pile of warped wood and plastic. At the age of ten, Michael was given a set of drums by his parents after begging for almost a year. Unfortunately, the begging lasted much longer than the drums did. After a week or two of trying to play them, Michael awoke one morning to find the drums had mysteriously disappeared. So much for pounding the skins around the Smith household.

He later got a Tiesco guitar and a small plastic amp from K-Mart, thanks to his Mom and Dad and sister Patsy. That instrument was the turning point for young Michael, as he fooled around with it, posing in front of the mirror, and learning a couple of barre chords. He would sit and watch TV with his dad, shows like "Hee Haw" and "Austin City Limits," trying to play along by ear. By now, he had learned how to tune a guitar, "kind of."
During the seventies, Michael became friends with a high school classmate named Doug Hooper, and spent a lot of time at Hooper's house. Doug was/is a great guitarist, and Michael was trying to learn the bass guitar (a gift from his sister Patsy). He never was cut out for bass, but Doug's encouragement and influence made Smith even more interested in becoming a guitar player.
In years to come, Michael would take some money from an insurance claim following injury in a car wreck and buy a Yamaha acoustic guitar, and a Marshall Tucker Band Anthology songbook. Between learning the chords to several of the MTB songs from the diagrams, and being shown a couple of chords by a friend (Bobby Smith) that worked with Michael at the grocery store, Smith learned to play "a little bit." As a bit more time passed, Michael began to learn lead patterns from his albums, and spent an entire weekend learning the twin-lead from "Jessica" by The Allman Brothers Band. He was sincerely proud of that one.

While working as sound-man and songwriter for a local band group called Silver Travis in the early 1980's, Michael began to learn more and more guitar as he co-wrote songs with Steve Harvey. A little later, the band employed Stuart Swanlund (later a member of The Marshall Tucker Band) as guitarist
Stuart gave Michael lots of confidence, and it helped him through the rejection. Stuart's positive attitude caused Michael to pursue his guitar playing even more.

While attending college in Spartanburg, Michael ran across a guitar playing cat named Gregg Yeary, and the two started getting together to learn covers of everything from Lynyrd Skynyrd to Marshall Tucker, from The Stray Cats to Bruce Springsteen. The two also began to write together. Soon, Gregg met David Haddox, a legendary drummer who had been the teacher to a 15-year-old red-headed wonder named Paul T. Riddle, who would go on to fame and fortune with The Marshall Tucker Band. David was also touring drummer with "The Killer," Jerry Lee Lewis. Pulling Michael's old friend from Silver Travis, Joey Parrish, into the mix, the band became The Buffalo Hut Coalition.

The BHC played everywhere, from clubs to festivals and private parties, and went through a series of bass players (among them Joey Parrish, Ernie Greene, Lee Ridings, Allen Heavrin and C.P. Owens), while Smith, Yeary and Haddox held together. In years to come, there would be several other bands in Michael B's future, including Frontline, a regrouping of The Buffalo Hut, and Michael B. & The Stingers. Smith also performed as half of a duet and appeared solo in the singer-songwriter mode.
Smith recorded his first album, Fairytales, a cassette-only release under the name Michael B & Donna, featuring Donna Orzonno, in 1992. Happy to Be Here, his first solo album, was released in 1996.
After dual surgeries and an extended hospital stay to battle a life-threatening bacterial infection during the summer of '98, and into '99, Smith announced in April, 1999 that he was again healthy enough to return to the stage. He began to appear solo as well as joining local favorites True Blues onstage. More health issues would plague Buffalo in the next few years, making his personal appearances a bit sporadic.
In 2000, he ventured to Lincoln, Nebraska to record Midwest Carolina Blues with the Rockabilly Hall of Fame Blues Band. The CD was mostly covers, except for a single original. Then in 2002 Buffalo became friends with Ray Brand and the Crawlers, a hot blues band out of Huntsville, Alabama, and ended up recordong two albums with them. The first was Southern Lights and it featured additional musicians Tommy Crain (Charlie Daniels Band), Bonnie Bramlett (Delaney & Bonnie) and Pete Carr (Bob Seger, Simon & Garfunkel). In 2004 Buff and the Crawlers were joined by George McCorkle (Marshall Tucker band), Jo Jo Billingsley (Lynyrd Skynyrd), Pete Carr and John Wyker (Sailcat) for Something Heavy. It would be Buffalo's last recording for thirteen years.
In 2017, Buffalo took his friend Joey Parrish (Silver Travis) and flew to Austin, Texas to record an EP of original tunes with Billy Eli and Jim Hemphill called The Austin Sessions. Michael McGreary (Jerry Jeff Walker) played drums. 2018 would find Smith living his dream, with an album produced by Capricorn Records hero Paul Hornsby, who also played piano on the album, along with Tommy Talton on slide (Cowboy/Gregg Allman), EG Kight, Towson Engsberg, Joey Parrish, Greg Yeary, and Daniel Jackson. Actor/musician Billy Bob Thornton contributed a spoken word prologue and epilogue for the album, Makin it Back to Macon.
Smith has appeared on stage with Bonnie Bramlett (Delaney & Bonnie); Spooner Oldham; Billy Bob Thornton and The Boxmasters; The Marshall Tucker Band; The Charlie Daniels Band; Molly Hatchet; The Winters Brothers Band; Paul Thorn; Tommy Crain & The Crosstown Allstars; The Crawlers; Ed King (Lynyrd Skynyrd); Tommy Talton (Cowboy); Jerry LaCroix (Edgar Winter's White Trash/Rare Earth); Bobby Whitlock (Derek & The Dominoes); Jimmy Hall, Jack Hall and Donna Hall (Wet Willie); George McCorkle (Marshall Tucker Band); Paul Riddle (Marshall Tucker Band); Jerry Eubanks (Marshall Tucker Band); Chris Hicks (MTB); Tony Heatherly (MTB); Sparky (Lynyrd Skynyrd/CDB); Denny Walley (Frank Zappa); Montgomery Gentry; Dave Hlubek (Molly Hatchet); Billy C. Farlow (Commander Cody); Mark Emerick (Commander Cody); Jakson Spires (Blackfoot); Jay Johnson (Rossington Band); Charles Hart (Radio Tokyo); Artimus Pyle (Lynyrd Skynyrd); Timmy Lindsey (Molly Hatchet/Lynyrd Skynyrd); Steve Grisham (Outlaws/Ghost Riders); Randall Hall (Lynyrd Skynyrd); Mike Estes (Lynyrd Skynyrd); Tim Neely (Humble Pie); Dru Lombar (Grinderswitch); Larry Howard (Grinderswitch); Stuart Swanlund, Ace Allen (Marshall Tucker Band); Donnie Winters (Winters Bros. Band); John D. Wyker; Jimmy Dormire (Confederate Railroad); Rob Walker (Stillwater); Stephen Foster; Rick Moore & Mr. Lucky; Stephen Nichols (Days of Our Lives "Patch"); The Crawlers; The Southern Rock Allstars; The Trunk Band; among others.
He has opened for Paul Thorn, David Alan Coe, Bonnie Bramlett, The Charlie Daniels Band, Molly Hatchet, Bad Company, The Marshall Tucker Band, Blackfoot, Brian Howe, The Southern Rock Allstars, New Legacy Duo and others.